Even though I'm a huge failure at blogging, I'm determined to share the fun things we've done the past couple of months. Get ready, because it was a whirlwind! Can anyone else not believe Christmas is in less than 2 weeks? Whaaaat?
First, let's start with how we surprised our friend, Ryne, on his 30th birthday at Revolver Brewery in Grandbury, TX. It happened to fall on the brewery's 2nd anniversary.
It was the first
unexpected
cold day of the year, so that's why we're all probably a little underdressed. Haha. The beer sure warmed us up! Mmm... Mullet Cutter...
We had a blast!! Can't wait to go back!
We celebrated our friend JD's 31st birthday with a camouflage themed party. Getting the guys to take a picture together is like hearding cats, so you'll have to trust me when I say they looked awesome in their camo gear. Justin excluded. Not being a hunter himself, chose to wear the always fashionable "Oh Deer Trophy Headpiece." The saddest part is that I didn't get a photo of it.
Sorry, for the poor picture quality. It's so dark, but I promise we're all in camo.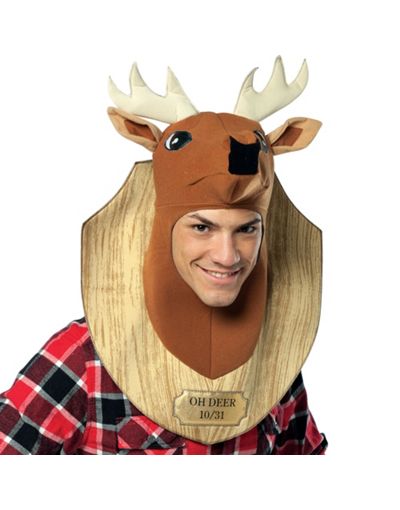 Here's a stock photo from Party City. You can use your imagination.
We also hosted a large group for Friendsgiving this year. I had fully intended it to take place in the backyard at one long table with twinkly lights hanging above. But again, freezing temperatures kept us indoors. Very tightly packed indoors.
How many mismatched chairs can we fit in our living room? The answer is 20.
It was a potluck and everyone brought their favorite Thanksgiving dish while Justin
and I
(haha just kidding. Not me) cooked the turkey and ham. It could NOT have turned out better. We had the most amazing food and desserts. Thank you everyone who came, it meant a lot!
Side note: Justin and I teamed together and made the tables! We made the legs out of sawhorses and the tops are doors from Home Depot that I stained a dark ebony color. I was impressed at their durability!
Next we celebrated the day that our dear friend, Jessi, brought Mr. William Brooks into the world. It's just amazing to think that a whole year has passed by and even more amazing to see how much he has grown in that time. He's not only walking, but he's RUNNING, and he's as tough as kids twice his size!
He dominated that bounce house.
Finally, and most recently, we attended our friends Matt and Meredith's couples shower. They are such a cute couple and I'm so excited for them to get hitched!
Anytime this group gets together, you can expect a good time!
And can we also note our precious hosts, Paige & Kyle, and their excellent decorating style. That cowhide rug and wing back chairs are killer!!
Please note that a ton of other stuff happened in between all these photos, but at this point, with Christmas just around the corner, I just need to get caught up so I can move on.